Jan Yeager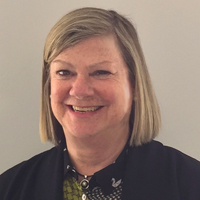 Human Factor Designer, Clinical Innovation Center
Here is what Jan's nominator had to say about her:  
"I'm nominating Jan for the Spotlight feature for a variety of reasons, mostly because I want EVERYONE to know how important her work is to our overall mission at UCSF. Given all of the life transforming work happening at UCSF on a daily basis, our patients - and even we can sometimes get lost in systems and process that may be overly burdensome and, ultimately, undermine outcomes of care and experience. What to do about that? Engage a service designer, like Jan! I met Jan a few years back when she worked with a multidisciplinary team on the Delirium Reduction project at Moffitt-Long. I was intrigued by her role (what's a "Service Designer"?) and quickly appreciated her skills ability to help clinicians work better together to prevent harms of delirium for hospitalized adults. Since then, we've interfaced on other multidisciplinary projects (like Integrated Spine Service and Patient Mobility) and I always appreciate her perspective, ideas, and ways of communicating. A few years later, I sought out her expertise when I considered developing my knowledge and skill in human centered design. Jan was generous with her time and offered ways for me to connect with the growing community at UCSF/ZSFG. Through her professional "lens", she brings empathy and curiosity to the important clinical work we do at UCSF!" 
- Maurine Coco, Director, Rehabiliation Services
Jan's Bio: 
I came to UCSF in 2016 as the Clinical Innovation Center was forming under the leadership of Ralph Gonzales. Our mission is to develop the infrastructure and internal capacity to accelerate innovations that solve critical delivery system problems at UCSF Health. My role as a service designer has been to introduce human-centered design (HCD) methods and tools into engagements with clinical teams—to consider the human experience in the context of solving a care delivery problem—and help teams re-frame problems from this perspective. Another way that I support our mission to build internal capacity is through education and coaching on this subject matter. I developed a human-centered design course with Courtney Lyles that is running this fall as an elective in the Implementation Science program. I also serve as a resource to Caring Wisely and Bridges Program teams to, again, bring another viewpoint to their QI projects.
I've been a design practitioner my entire professional career and these years at UCSF have been the highlight. I am grateful for the latitude I've been given to demonstrate the value of design in this setting and the openness of the community to share their knowledge and support me as I learn my way around both the domain of clinical practice and the institution.
Tell us about an important role model or mentor in your life?
I've had a couple of peer role models at different points in my career. They had great interpersonal skills and I admired the way they met challenges with grace and style. I continue use these recollections as my guardrails when I encounter a difficult situation.
What's on your reading list?
I've been on a non-fiction streak lately. I just finished Dirt by Bill Buford who tells of his quest to master French cooking amid a fascinating search for the origins of French cuisine. I am currently in middle of If, Then by Jill Lepore and have The Warmth of Other Suns: The Epic Story of America's Great Migration next on the list.
What's your ideal weather?
I'm pretty sure I'm living in it daily in San Francisco. I continue to be fascinated however by the microclimate phenomenon and how the temperature shifts just walking in the shade of a tree.
What do you like to do outside of work?
After a long hiatus I've picked up oil painting again and have been studying remotely with an artist who lives in Pennsylvania. It's a different sort of problem solving that informs my work on another level.
---
Meet other outstanding women of UCSF Health through Our Spotlight.